VII National Conference of Childhood Apraxia of Speech (2021)
The Conference will be fully online, with national and international speakers and simultaneous translation into 3 languages:
Portuguese
Spanish
English
Some speakers will be participating in ABRAPRAXIA lectures for the first time!
Audience: Health and Education Professionals, Parents and Families
November 5th and 6th, 2021
LOCATION: Zoom / Virtual Online Platform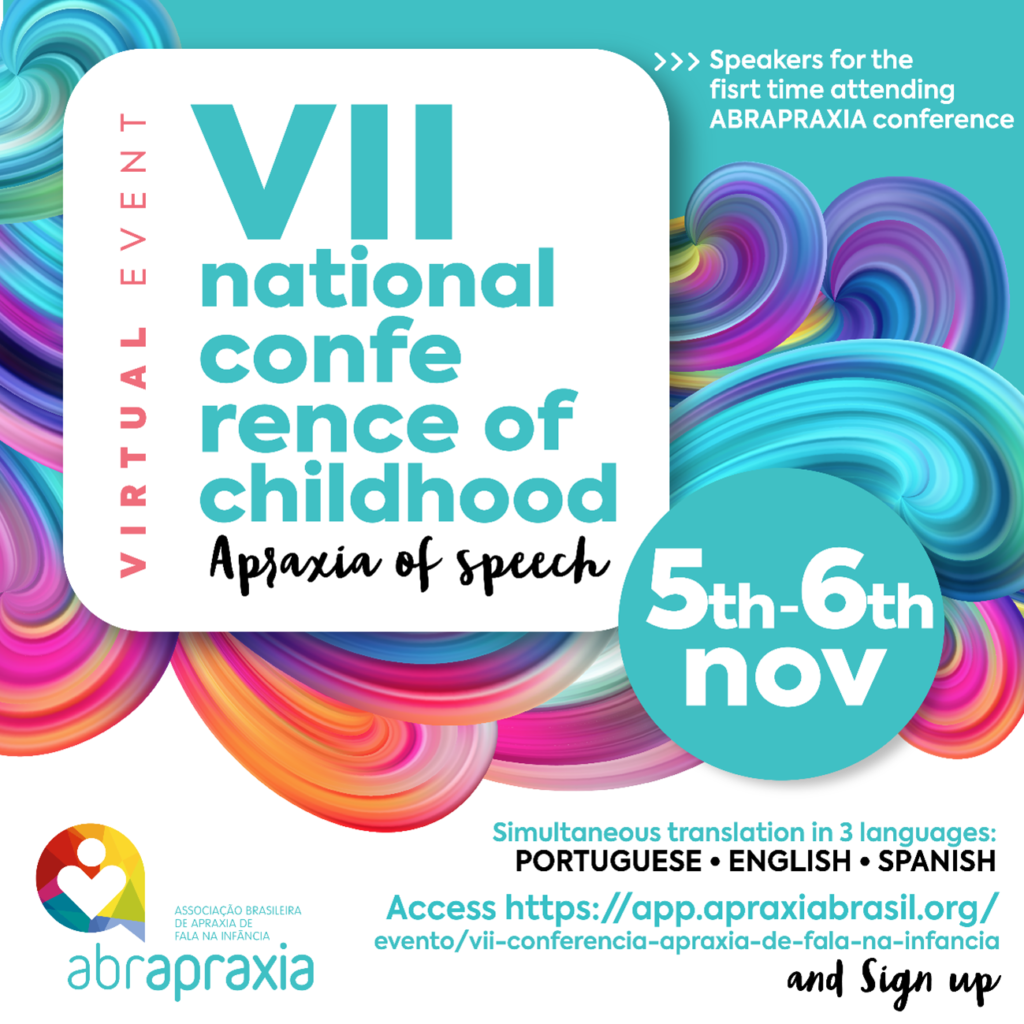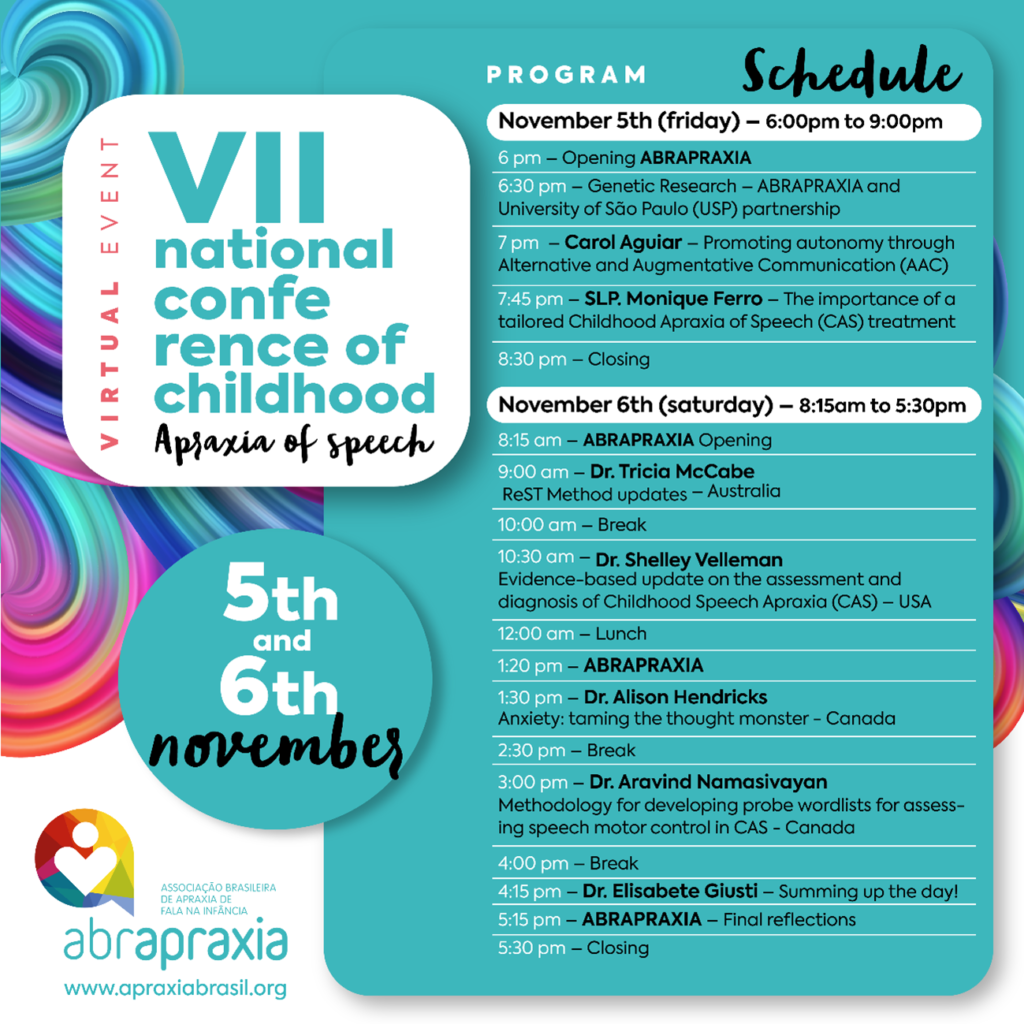 SCHEDULE
November 5th (Friday) and November 6th (Saturday)
Program:
November 5th (friday) – 6:00 pm to 9:00 pm
• 6 pm – Opening ABRAPRAXIA
• 6:30 pm – Genetic Research – ABRAPRAXIA and University of São Paulo (USP) partnership
• 7 pm – Carol Aguiar – Promoting autonomy through Alternative and Augmentative Communication (AAC)
• 7:45 pm – Monique Ferro – The importance of a tailored Childhood Apraxia of Speech (CAS) treatment
• 8:30 pm – Closing
November 6th (saturday) – 8:15 am to 5:30 pm
• 8:15 am – ABRAPRAXIA Opening
• 9:00 am – Dr. Tricia McCabe – ReST Method updates – Australia
• 10:00 am – Break
• 10:30 am – Dr. Shelley Velleman – Evidence-based update on the assessment and diagnosis of Childhood Speech Apraxia (CAS) – USA
• 12:00 am – Lunch
• 1:20 pm – ABRAPRAXIA
• 1:30 pm – Dr. Alison Hendricks – Anxiety: taming the thought monster – Canada
• 2:30 pm – Break
• 3:00 pm – Dr. Aravind Namasivayan – Methodology for developing probe wordlists for assessing speech motor control in CAS – Canada
• 4:00 pm – Break
• 4:15 pm – Dr. Elisabete Giusti – Summing up the day!
• 5:15 pm – ABRAPRAXIA – Final reflections
• 5:30 pm – Closing
Investments:
Professionals: R$ 500
Students: R$ 250
Know a little bit from the SPEAKERS: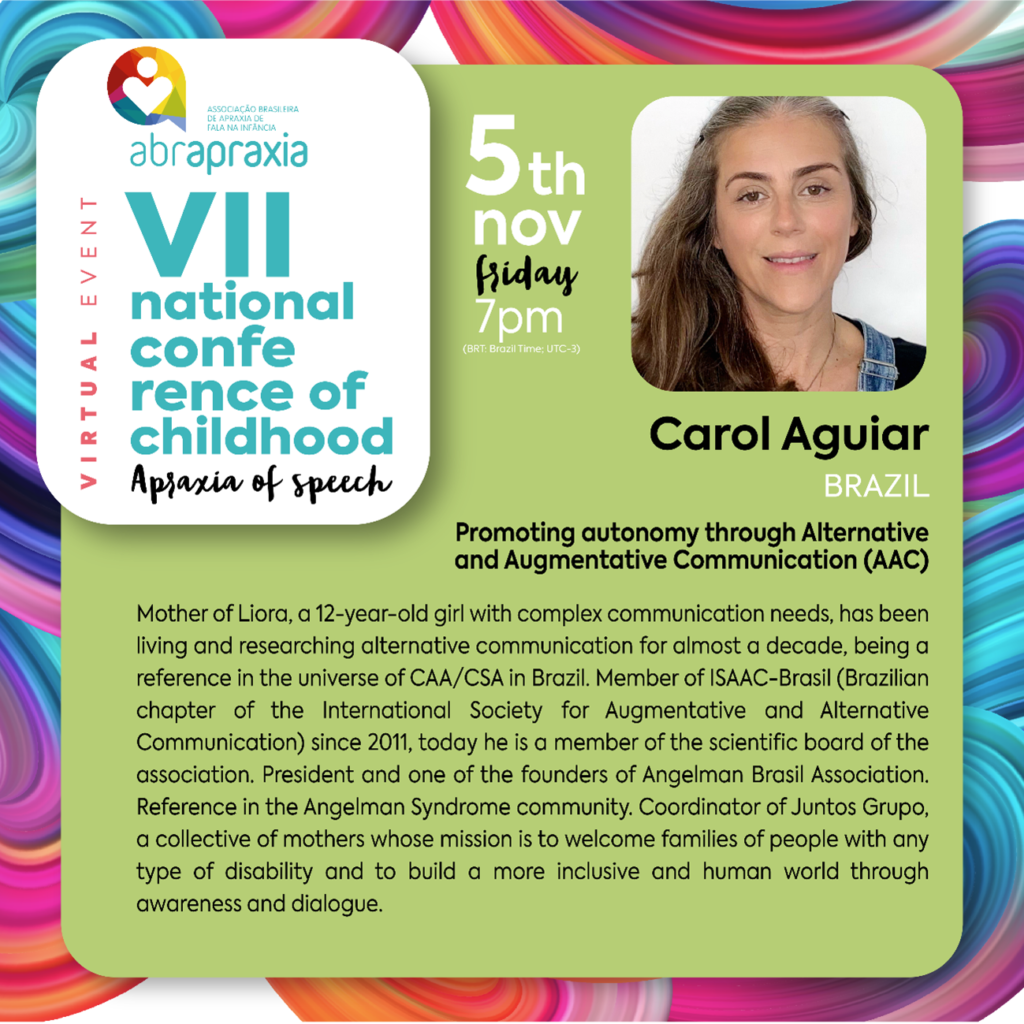 Carol Aguiar
Mother of Liora, a 12-year-old girl with complex communication needs, has been living and researching alternative communication for almost a decade, being a reference in the universe of CAA/CSA in Brazil.
Member of ISAAC-Brasil (Brazilian chapter of the International Society for Augmentative and Alternative Communication) since 2011, today he is a member of the scientific board of the association.
President and one of the founders of Angelman Brasil Association. Reference in the Angelman Syndrome community.
Coordinator of Juntos Grupo, a collective of mothers whose mission is to welcome families of people with any type of disability and to build a more inclusive and human world through awareness and dialogue.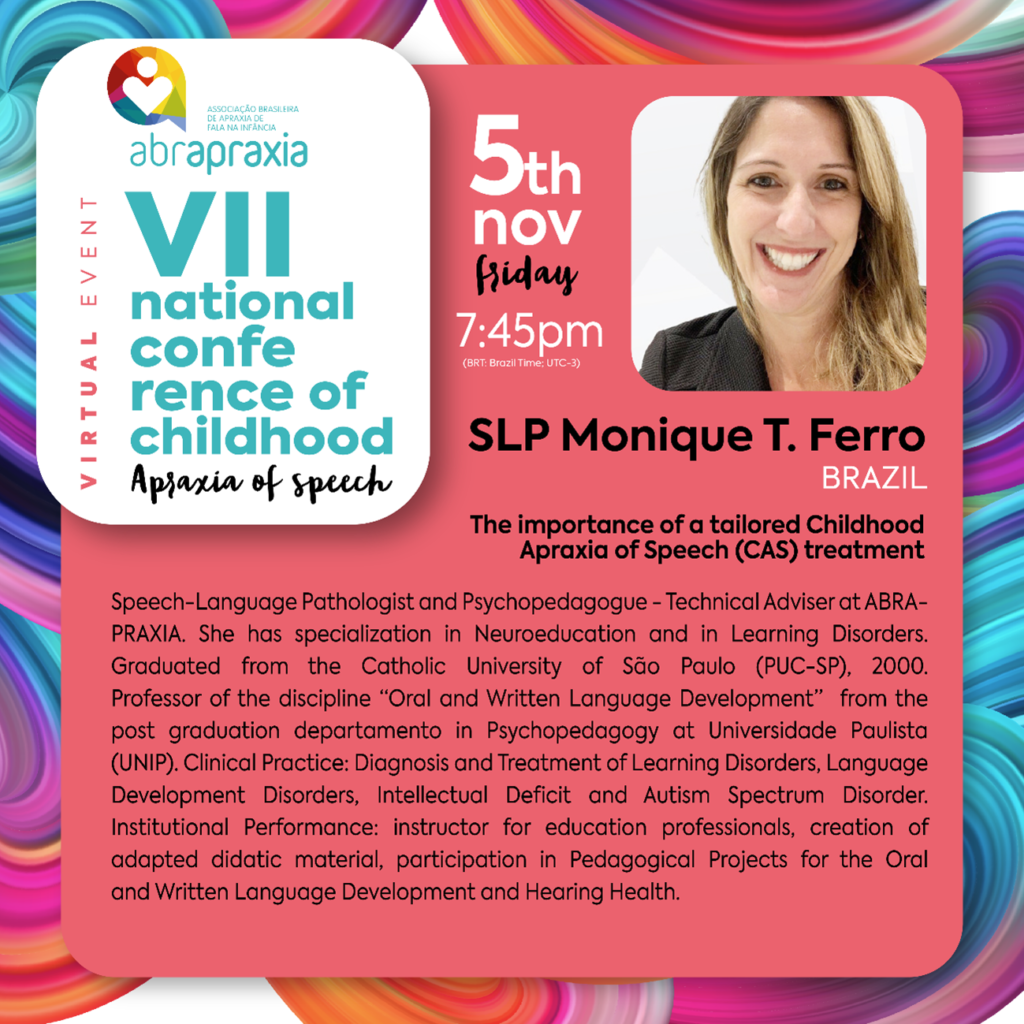 SLP Monique Teixeira Ferro
Speech-Language Pathologist and Psychopedagogue – Technical Adviser at ABRAPRAXIA.
She has specialization in Neuroeducation and in Learning Disorders.
Graduated from the Catholic University of São Paulo (PUC-SP), 2000.
Professor of the discipline "Oral and Written Language Development" from the post graduation departamento in Psychopedagogy at Universidade Paulista (UNIP).
Clinical Practice: diagnosis and Treatment of Learning Disorders, Language Development Disorders, Intellectual Deficit and Autism Spectrum Disorder.
Institutional Performance: instructor for education professionals, creation of adapted didatic material, participation in Pedagogical Projects for the Oral and Written Language Development and Hearing Health.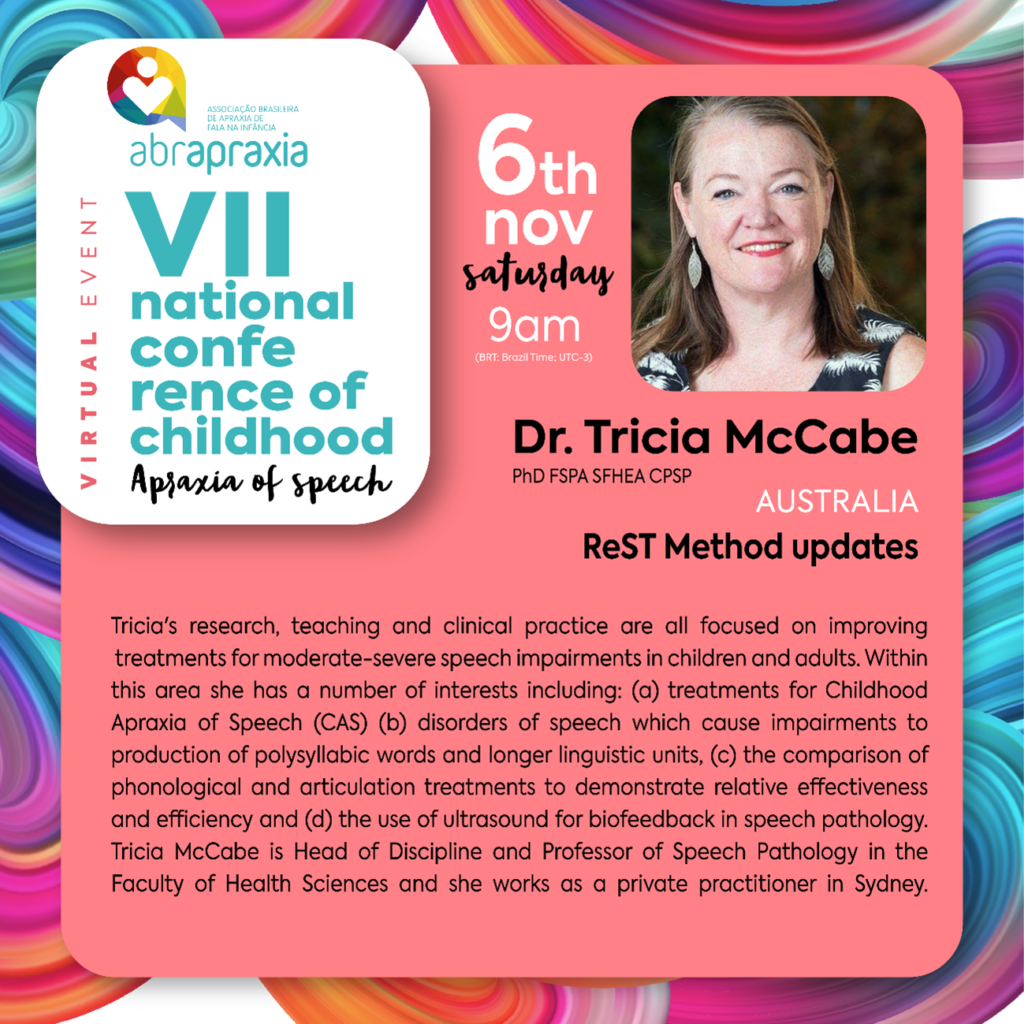 Tricia McCabe PhD FSPA SFHEA CPSP
Tricia's research, teaching and clinical practice are all focused on improving treatments for moderate-severe speech impairments in children and adults. Within this area she has a number of interests including: (a) treatments for Childhood Apraxia of Speech (CAS) (b) disorders of speech which cause impairments to production of polysyllabic words and longer linguistic units, (c) the comparison of phonological and articulation treatments to demonstrate relative effectiveness and efficiency and (d) the use of ultrasound for biofeedback in speech pathology.
Tricia McCabe is Head of Discipline and Professor of Speech Pathology in the Faculty of Health Sciences and she works as a private practitioner in Sydney.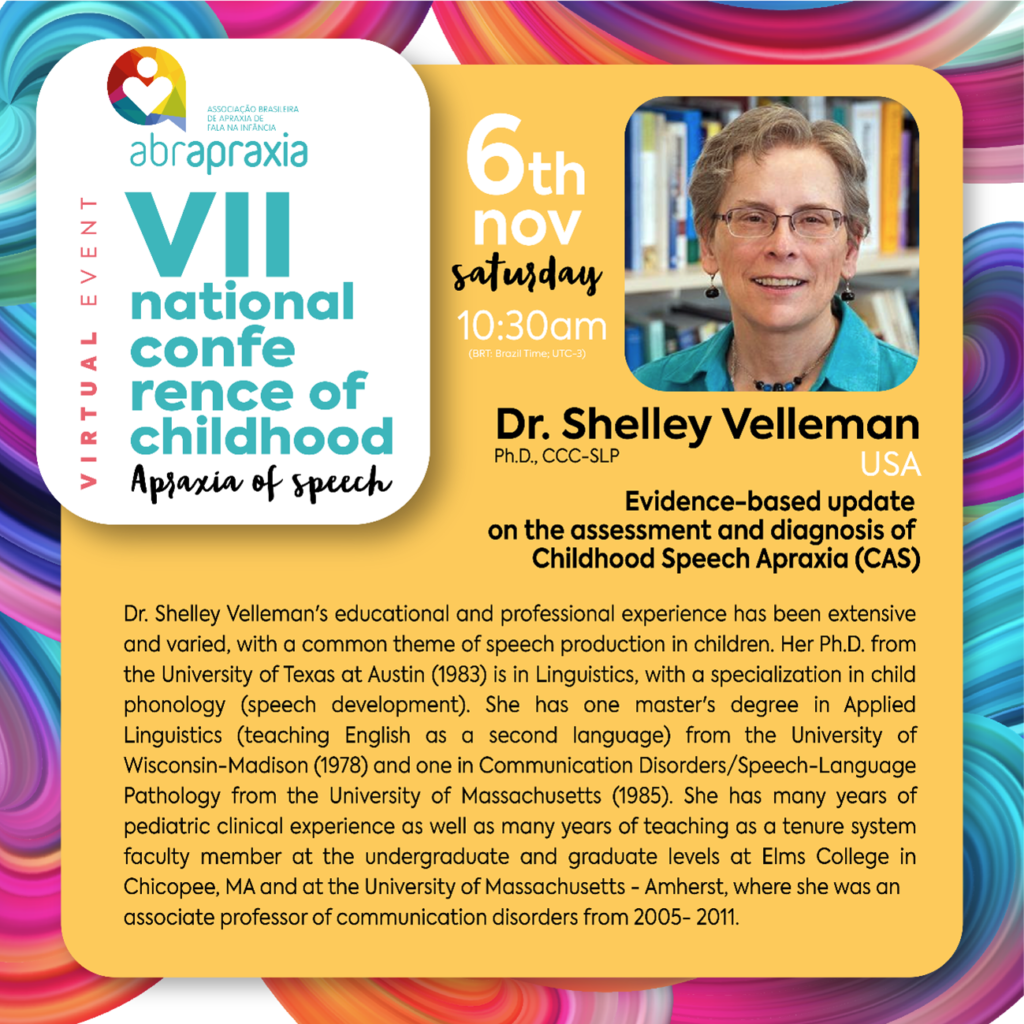 Shelley Velleman, Ph.D., CCC-SLP
Dr. Shelley Velleman's educational and professional experience has been extensive and varied, with a common theme of speech production in children. Her Ph.D. from the University of Texas at Austin (1983) is in Linguistics, with a specialization in child phonology (speech development). She has one master's degree in Applied Linguistics (teaching English as a second language) from the University of Wisconsin-Madison (1978) and one in Communication Disorders/Speech-Language Pathology from the University of Massachusetts (1985). She has many years of pediatric clinical experience as well as many years of teaching as a tenure system faculty member at the undergraduate and graduate levels at Elms College in Chicopee, MA and at the University of Massachusetts – Amherst, where she was an associate professor of communication disorders from 2005- 2011.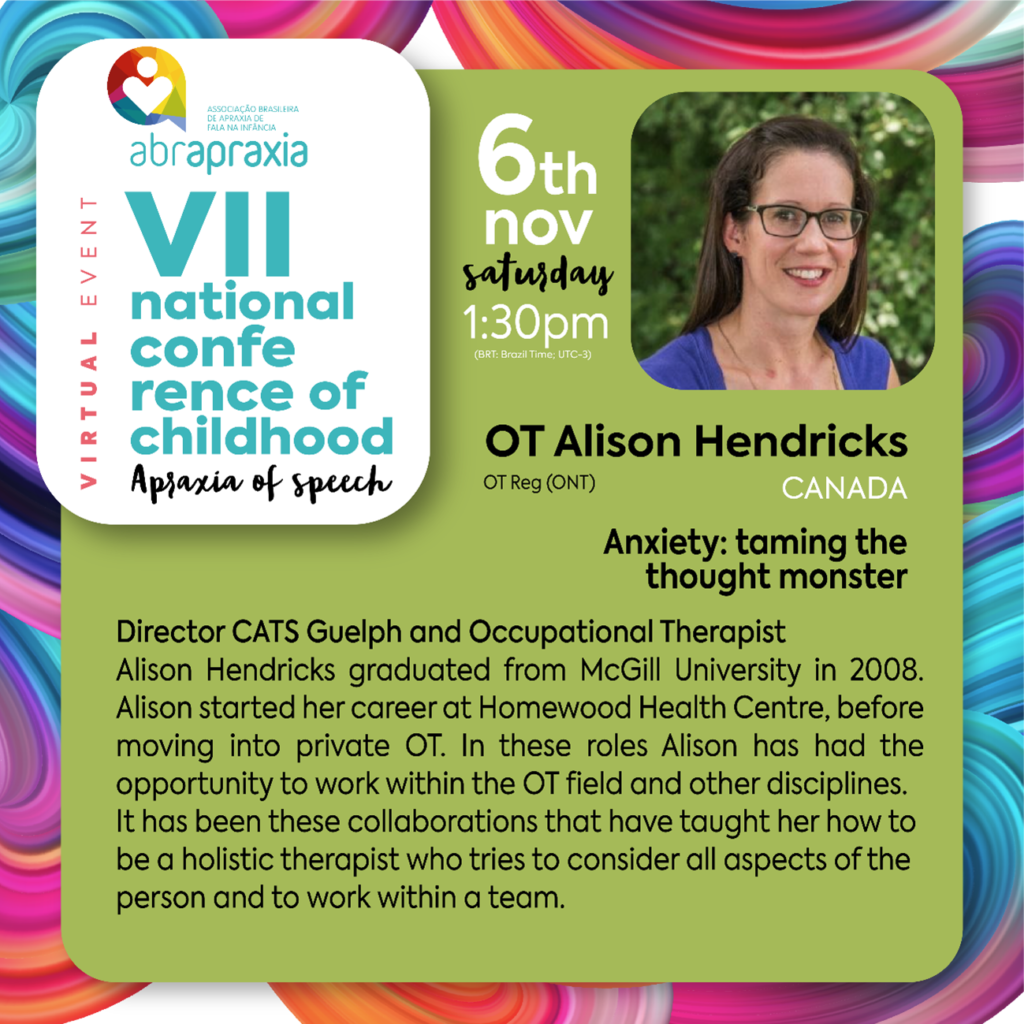 OT Alison Hendricks
Director CATS Guelph and Occupational Therapist
Alison Hendricks graduated from McGill University in 2008. Alison started her career at Homewood Health Centre, before moving into private OT. In these roles Alison has had the opportunity to work within the OT field and other disciplines.
It has been these collaborations that have taught her how to be a holistic therapist who tries to consider all aspects of the person and to work within a team.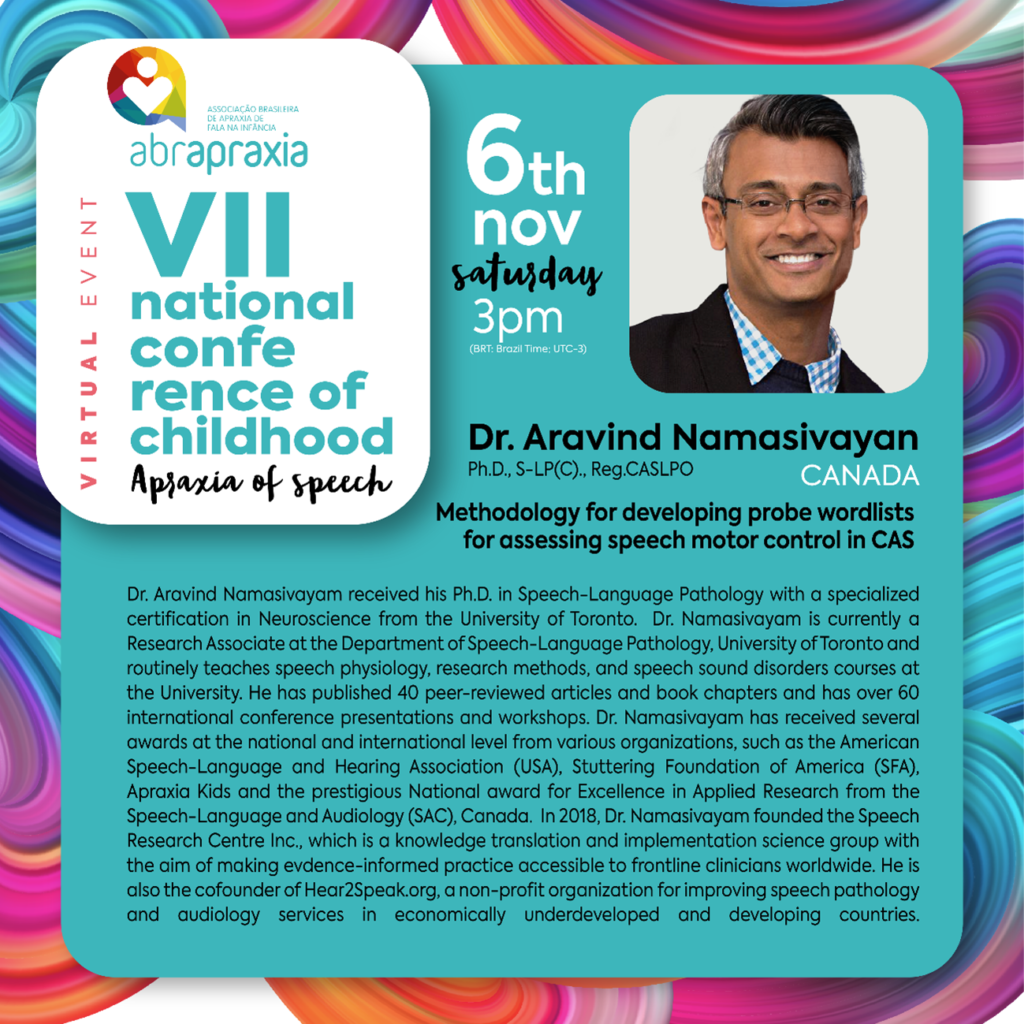 Aravind Namasivayam Ph.D., S-LP(C)., Reg.CASLPO
Dr. Aravind Namasivayam received his Ph.D. in Speech-Language Pathology with a specialized certification in Neuroscience from the University of Toronto.
Dr. Namasivayam is currently a Research Associate at the Department of Speech-Language Pathology, University of Toronto and routinely teaches speech physiology, research methods, and speech sound disorders courses at the University. He has published 40 peer-reviewed articles and book chapters and has over 60 international conference presentations and workshops.
Dr. Namasivayam has received several awards at the national and international level from various organizations, such as the American Speech-Language and Hearing Association (USA), Stuttering Foundation of America (SFA), Apraxia Kids and the prestigious National award for Excellence in Applied Research from the Speech-Language and Audiology (SAC), Canada.
In 2018, Dr. Namasivayam founded the Speech Research Centre Inc., which is a knowledge translation and implementation science group with the aim of making evidence-informed practice accessible to frontline clinicians worldwide. He is also the cofounder of Hear2Speak.org, a non-profit organization for improving speech pathology and audiology services in economically underdeveloped and developing countries.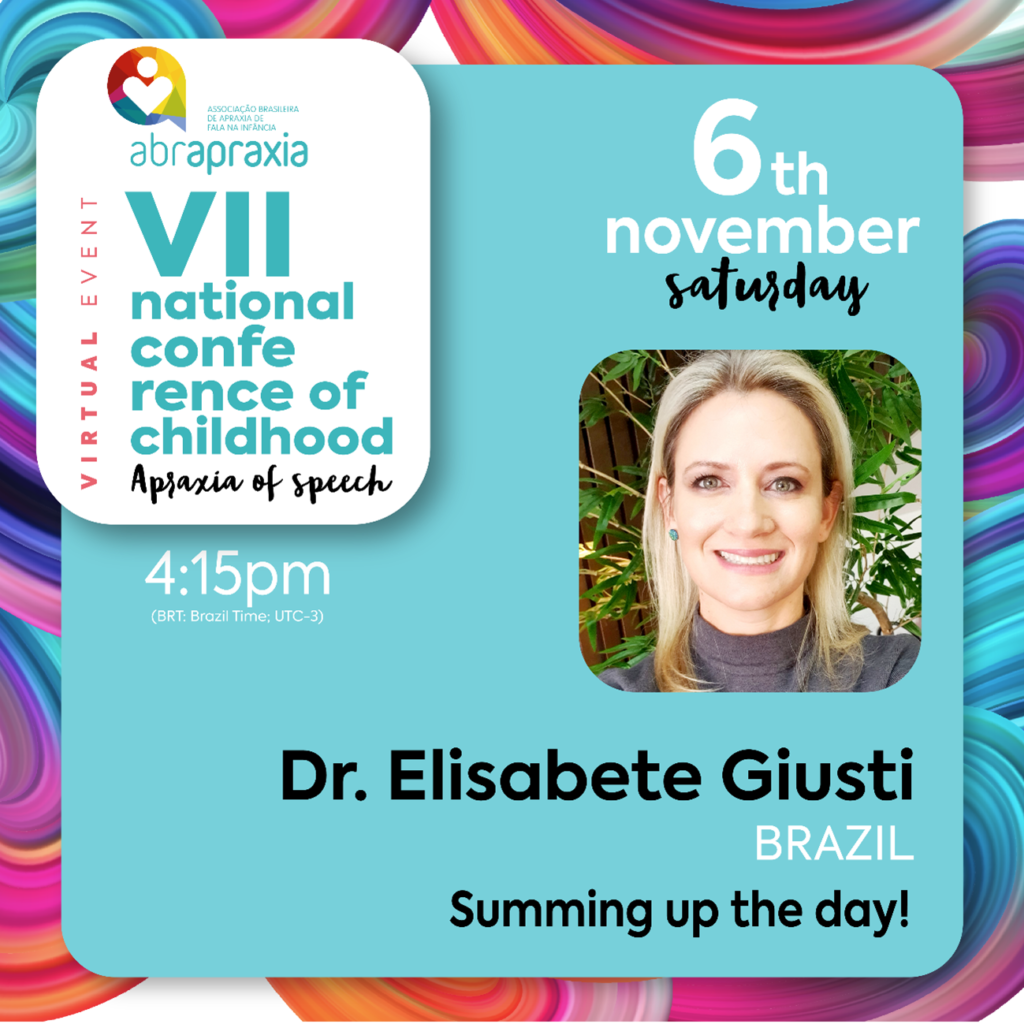 Dr. Elisabete Giusti
Speech-Language Pathologist specialized in language development and its disorders by the Faculty of Medicine of the University of São Paulo (USP).
PhD in Linguistics from the University of São Paulo.
Speech-Language Pathologist with expertise in speech and language development disorders and mainly in motor speech disorders (Apraxia – Dysarthria).
Therapist certified in the Hanen Method by the Hanen Center – Canada.
Therapist trained in the PROMPT Method (Level I and Level II) by the Prompt Institute, USA. Experience in other methods such as DTTC (Dynamical Temporal and Tactile Cueing), Dr. Edythe Strand and ReST (Rapid Syllable Transition Training), suitable techniques for children with motor speech disorders.
Technical Advisor and Meritorious Member of the Brazilian Association of Childhood Apraxia of Speech (ABRAPRAXIA – apraxiabrasil.org).
Founder of the website: atrasonafala.com.br